Basel Assembly
Berne Assembly
Biel/Bienne Assembly
Zurich Central Assembly
PIWC Zurich
DISTRICT EXECUTIVE MEMBERS
| | |
| --- | --- |
| Rev. Gordon Opoku Boakye | District Pastor |
| Elder Kofi Bobie Ansah | District Secretary |
| Elder James K. Cudjoe | Financial Secretary |
| Elder Kyere Boateng | Member |
| Elder Patrick Opoku Boakye | Member |
| Deacon Bright Sumo | Member |
MINISTRIES AND THEIR LEADERS
DISTRICT WOMEN MINISTRY EXECUTIVES
Deaconess Agness Adu-Poku
Leader
Deaconess Adelaide Brosius
Assistant
Deaconess Emile Gadeka
Member
Deaconess Victoria Bamfo
Member
Deaconess Patricia Ocran
Member
 .
DISTRICT MEN MINISTRY EXECUTIVES (PEMEM)
Elder Kyere Boakye
Leader
Brother Richard Brocius
Assistant
 .
DISTRICT YOUTH MINISTRY EXECUTIVES
Deacon Isaac Boadu
Leader
Sister Esther Opoku
Assistant
 .
DISTRICT CHILDREN MINISTRY EXECUTIVES
Deaconess Adelaide Brosius
Leader
Sister Anastasia Kemmeh
Assistant
 .
DISTRICT EVANGELISM MINISTRY EXECUTIVES
Elder Patrick Opoku Boakye
Leader
Deacon Elvis Boakye
Assistant
In response to the Great Commission, and to the Glory of God, our Mission's creed is simple:
1. Help establish churches among unreached people in the State of Zurich and beyond.
2. Strengthen existing churches through alliances and shared lessons learned.
3. Reach out to those in our immediate environs.
Our heart's desire is to participate in the spread of a passion for God among the nations, to see people from every tribe, nation, people and language, come to Christ's saving knowledge and offer true and acceptable worship to God through His Son, Jesus Christ We are committed to ensuring that the church as God's vehicle is propitiously used as a means to extend the good news of the gospel to the ends of the earth by equipping and mobilizing our members for mission and evangelism work.
The Church of Pentecost in Zurich District seriously seeks to partner with church-planting ministries and Para-church organizations with the heart for missions to achieve our mission's creed reaching all corners of the State of Zurich and the world at large.
At the moment, our attention is focused at the possibility of opening churches at Winterthur, Will SG and Fribourg. We are also focusing on strengthening Our Outreach engagements which includes member visitations, hospital visitation, neighbourhood's cookout etc. Studies will soon be commissioned to explore other avenues to expand our mission programs.

Please click on the pictures for more pictures !!!
Chairman's visit to Swiss 2014 in Zurich district

Send off And Induction Service 2014, 7/9/2014 at Zurich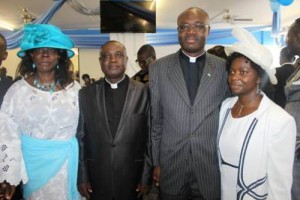 Ordination Service on Sunday, 8th July 2012 at Zurich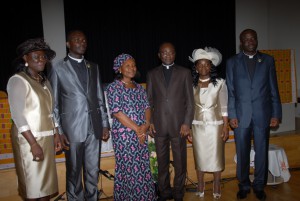 National Easter Convention 2012 at Bern

Rev. Gordon Opoku Boakye (District Pastor)